Discover more from Always Be Curious
Always Be Curious is your weekly shot of sci-tech coverage. Bringing you the now, the how and the wow of science and technology with a special focus on the chip industry.
Over 3,000 subscribers
Always Be Curious #181: Isaacson on Musk, Tesla's latest breakthrough, and Apple's A17 Pro on TSMC's N3
This week in ABC: Isaacson's biography of the world's rule-breaking visionary is here, Tesla's die-cast carmaking is a gamechanger, and Apple released its latest silicon on TSMC's 3-nanometer node
Who's going to bump the curious clan over 3,000 subscribers!? 🤯🙏 Follow my socials for the latest news throughout the week, then share this ABC on yours:
📍 LinkedIn profile | LinkedIn ABC | Instagram
This week, Walter Isaacson released his long-awaited biography of Elon Musk. 📖 It is the story of a rule-breaking visionary with an incredible drive and energy to get stuff done. Both innovative and destructively brazen, Musk leads companies like Tesla, SpaceX, Starlink and X, all of which significantly influence how we live and communicate in this world. And if we take just one, Tesla, this week's ABC includes a nice example of what exactly that crazy drive can deliver: a quantum leap ahead of the competition. 🔥 Tesla is already years ahead thanks to its tightly integrated hardware and software, but now Musk's car company is closing in on a manufacturing innovation that would allow it to die-cast nearly all the complex underbody of a Tesla car in one single piece (rather than about 400 separate parts in a conventional car). 🤯 This has never been done before and would be somewhat of a revolution in the car industry. It would also eliminate the need for hundreds of factory robots, improving the quality and consistency of the vehicle body. This will lead to an even better car, which is cheaper to make, and will become more affordable to the masses. 💪
Isaacson says it best in this interview with The Atlantic, which I've included in full in the section below:
"He's probably the most important person pushing us into an era of electric vehicles and power walls. Also, he's singularly been able to get astronauts into orbit from the United States after NASA decommissioned the space shuttle a dozen years ago. He's been able to create his own Starlink internet in low Earth orbit. And he's been able to land [orbital] rocket boosters upright and reuse them again—things nobody else has been able to do. On the other hand, he's blown up a lot of shit, including Twitter. He's not nearly as good at understanding how to deal with social media as he is dealing with rocket engines. The book ends with rockets going up and rockets exploding, which is a metaphor for his accomplishments and the debris that often comes in his wake. That makes him an absolutely fascinating person, if you don't mind rubbernecking and watching a tale unfold."
Have a good week, stay safe and sound,
Thanks for reading Always Be Curious! Subscribe for free and join the curious clan on Sunday mornings. ☕️🥐
---
👨‍💻The round-up in sci-tech💡
A conversation with Walter Isaacson about his new biography of Elon Musk, world builder and world destroyer.
The tech giant is 25 years old. In a chatbot war. On trial for antitrust. But its CEO says Google is good for 25 more.
Tesla has combined a series of innovations to make a technological breakthrough that could transform the way it makes electric vehicles and help Elon Musk achieve his aim of halving production costs.
Yuval Noah Harari and Mustafa Suleyman debate artificial intelligence.
AI could help humanity solve some of its biggest and thorniest problems. And AI will do this in a very specific way: by radically accelerating the pace of scientific discovery, especially in areas such as medicine, climate science and green technology.
The birds can associate images with distinct reward probabilities.
Nasa's James Webb Telescope may have discovered a molecule thought only to be produced by life.
Processing on the fly gives extreme drones the edge.
---
🤓This week in chips⚠
A17 Pro introduces hardware ray tracing in a new GPU, with console-quality games announced for the phone.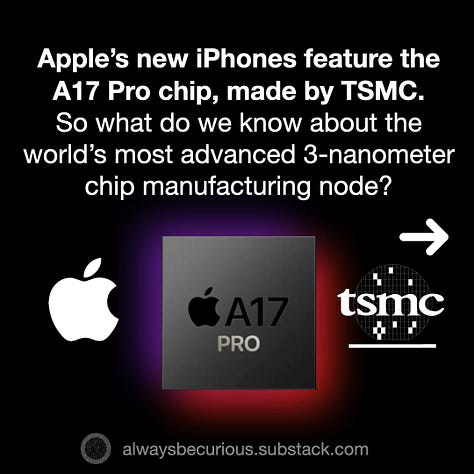 Samsung co-CEO Kyung Kye-hyun, who oversees the tech giant's chips business, expressed confidence in the foundry competition with its archrival, in line with the construction of a new chip plant in Texas. 
The market for cutting-edge "semiconductor packaging" technology is heating up. As semiconductor manufacturing processes become more advanced, both domestic an
The foundry industry leader TSMC has stoked competition in the upcoming 2 nanometer ultra-fine process technology by acquiring a stake in a global extreme ultraviolet (EUV) photomask manufacturing company.
Chief scientist Bill Dally explains the 4 ingredients that brought Nvidia so far.
No plans, no reports, no clear hierarchy. 😎
"Taiwan's TSMC has told its major suppliers to delay the delivery of high-end chipmaking equipment, as the world's top contract chipmaker grows increasingly nervous about customer demand, two sources familiar with the matter said."
Tiny silicon motes tackle hard problems of fraud in Big Ag and Big Pharma.
Whether a Taiwanese chip engineer who led Semiconductor Manufacturing International Corp (SMIC) to make 7 nanometer chips for Huawei's Mate60 Pro will be sanctioned by the United States has become …
Analyst firm estimates how many H100 computer GPUs Nvidia shipped in Q2.
Dutch start-up Axelera AI announced the first shipment of its Metis AI Platform to its Early Access Program customers.
---
📈By the numbers📉
Here's who made the 2023 TIME100 AI list of the most influential people in artificial intelligence.
These innovators are using technology to understand the body at the smallest scale, to find new ways to attack cancer, and to try to cure Duchenne muscular dystrophy.
After five straight quarters with declining revenue, the semiconductor industry reversed course and recorded revenue growth of 3.8% to $124.3 billion in the second quarter of 2023.
Video gaming is the most popular form of entertainment. But how people engage with video games looks different by generation.
---
❤️For the love of tech❤️
September 12th marks the arrival of one of the greatest inventions of all time, and it happened 65 years ago at Dallas-based Texas Instruments.
---
Always Be Curious is the personal newsletter of Sander Hofman, Senior Creative Content Strategist at ASML. Opinions expressed in this curated newsletter are my own and do not necessarily reflect those of my employer.